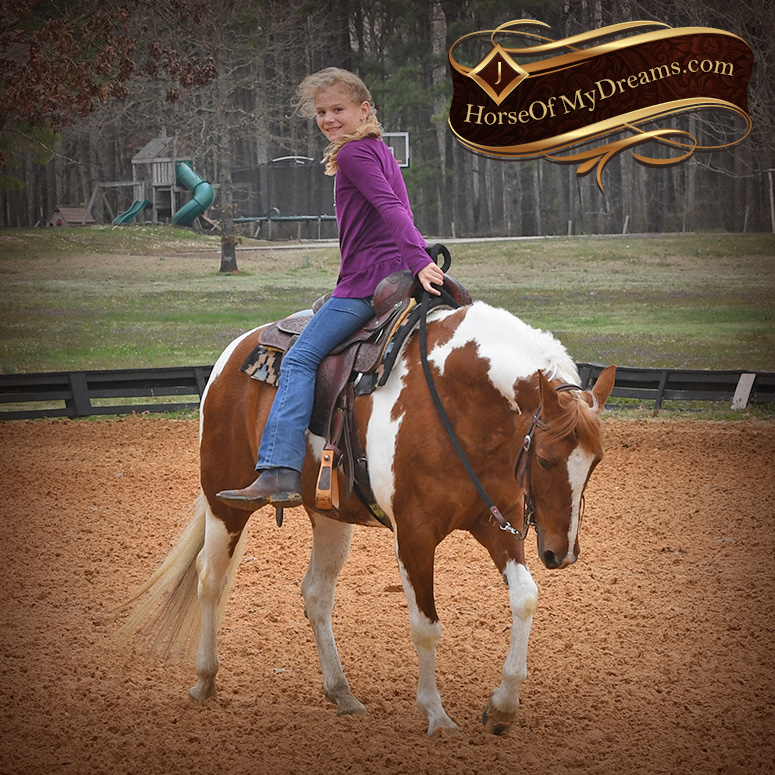 About
Cassidy is a cute, and perfectly built pony with a big personality! With her confirmation and color, she is quick to catch anyone's eye! She is flashy and absolutely beautiful in every way! We could hardly get our niece Anna off of her, she fell in love and we know you will too! She is funny and loves kids just the right size for her, but she is big enough to carry adult riders as well! She's responsive, neck reins, and has a big stop. She is the perfect size for children because they can grow up with her and ride for many years to come! She is a cow horse, has worked cattle and even helped round up our neighbors stray cattle. She is a great trail horse, calm and composed all the time. This pony bonds to her riders and loves to be groomed and loved on! She was exposed to the program and did great! She was exposed to flags, tarps, the water, the atv, dogs, the big ball, tricks, and she is a blast to ride! Give your kids the fun and safe partner they deserve to grow and bond with. This pony can teach and take care of your little ones the same way she took care of Anna. Imagine the smile on their faces having an adorable best friend of their very own!
Ready to buy?
Interested in acquiring this horse? Simply use the button below to contact us to let us know you are interested!
Contact Us
Need help finding your ideal horse?
Maybe you didn't see what you were looking for or need help selecting the right horse to match meet needs. Either way, we are here to help! Feel free to complete our New Customer Questionnaire or simply contact us through our form.
New Customer Questionnaire