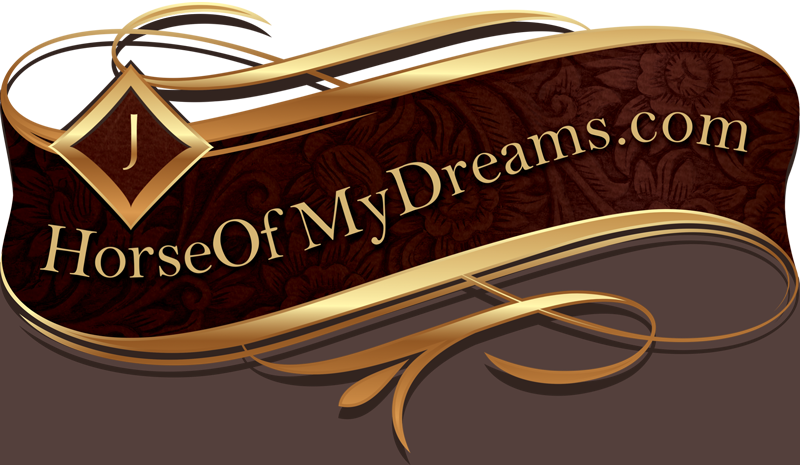 At Horse Of My Dreams, we believe in doing things very differently…
First of all, every horse and pony that comes to the ranch is evaluated for safety and temperament by working through our rigorous and proven desensitizing program where we expose them to tarps, flags, atv's, on the road in traffic, water, loading & unloading, arena and round pen work, bareback, clippers, cross ties, dogs, farm animals and much more. We try and cover anything the horse might see in a busy family and barn setting. Many of our horses have a very solid foundation of ranch and trail work before they come to us and effortlessly breeze right through the program. Others may require more training, but until we are so confident in a horse that we trust them with our own children, that horse is not available for purchase. Seldom, we may get a horse that does not meet our high standards of a "family safe horse" and those horses are given away to knowledgeable trainer apprentices.
Scroll through to see a sampling of the work we do with your dream horses…
Horse Of My Dreams Horses currently reside in 44 of the 48 Continental United States and Hawaii, Canada, the UK, South America and Persia…
Secondly, we are based in Arkansas, which is admittedly not the "horsiest" part of the country, so we offer FREE SHIPPING to almost anywhere in the Continental United States. Approximately 5% of our customers are in Arkansas and 95% of our are located in California, Colorado, Texas, Florida, Georgia, New York and other parts of the country. Our horses are in such high demand; we've even exported several horses over seas to the UK, South America and Persia and quite a few of our horses are now in beautiful parts of Canada. To help our International customers with shipping costs, we have a built-in shipping allowance to cover the fees to get them to an equine air transporter or to the Canadian border, but rest assured your shipping within the United States should be fully covered within our built-in allowance.

Places Our Horses Have Been Sold To
Finally, we of course invite anyone, from any corner of the earth to drive or fly in to visit the ranch and meet our horses in person before making your purchase, but very few of our customers actually do which is why we provide such extensive videos, photographs and an abundance of references upon request. Generally, we have an incredible knack for knowing when a horse and person are a perfect match, but if for ANY reason you are not 100% in love with your new horse or pony, we offer an unheard of 30-DAY GUARANTEE period and are happy to exchange your horse of pony if you are not completely satisfied.
We offer extremely personalized service and often stay in-touch with our customers for many, many years. When you visit our testimonials page, you will see newly updated photos and letters from customers who love our horses and ponies as much as we do. The Sold Page will also provide a great understanding of the consistent quality that make our horses and ponies so highly sought after. And of course, if you would like us to video anything specific for you, let us know and we are happy to accommodate you.