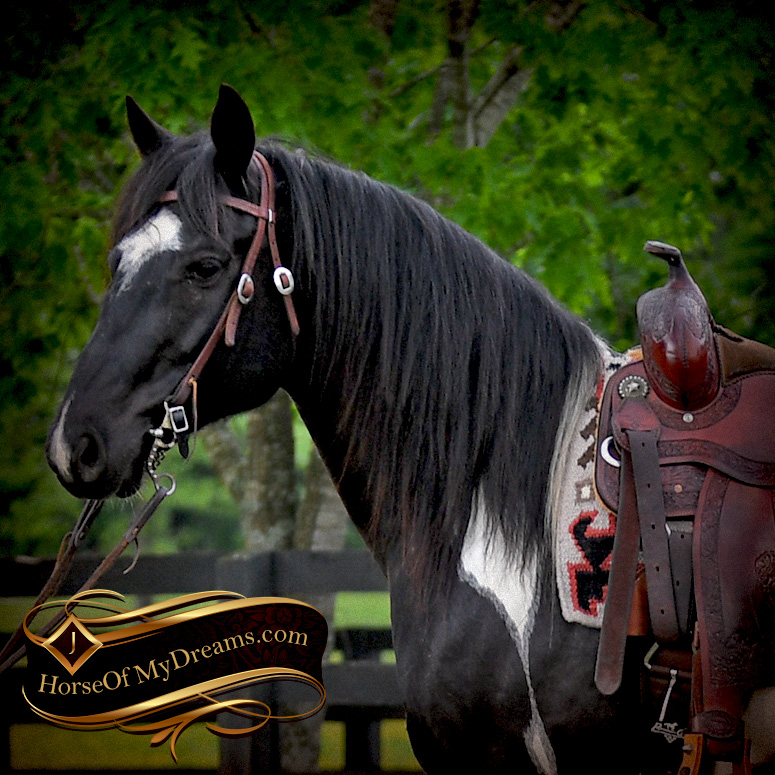 About
Durango is a flashy 15 hand black tobiano draft cross gelding. He is a stand out guy that people will notice when you ride by. He has good bone and feet. With a smooth, easy gait, he has been a pleasure to ride in the arena and on trails, work both ranch and feedlot, and participate in arena events. Durango has a good handle, rides on a loose rein, and responds to leg cues. He has a desirable slow trot and lope and will also sustain a ground covering long trot. Durango sidepasses and has overall good body control. He is a steady, multi-talented mount with a lot of experience. He has been ridden by many riders of different skill levels and skill sets. He has a strong background in ranch work and trail riding but has also been started in working equitation and western dressage. He has roped and treated yearling calves. Durango has worked in all kinds of weather, day or night. He rides out alone. He crosses water, opens gates, and works flags, whips, and ropes. He is traffic safe and has been around many balls, tarps, flags, atv's, dogs, wildlife, and a llama. Durango stands quietly tied or to be mounted. He is easy to catch, shoe, and load. Durango likes his blanket, he likes being brushed, and he just loves people in general. He is ready for whatever task you have in store for him.
Ready to buy?
Interested in acquiring this horse? Simply use the button below to contact us to let us know you are interested!
Contact Us
Need help finding your ideal horse?
Maybe you didn't see what you were looking for or need help selecting the right horse to match meet needs. Either way, we are here to help! Feel free to complete our New Customer Questionnaire or simply contact us through our form.
New Customer Questionnaire