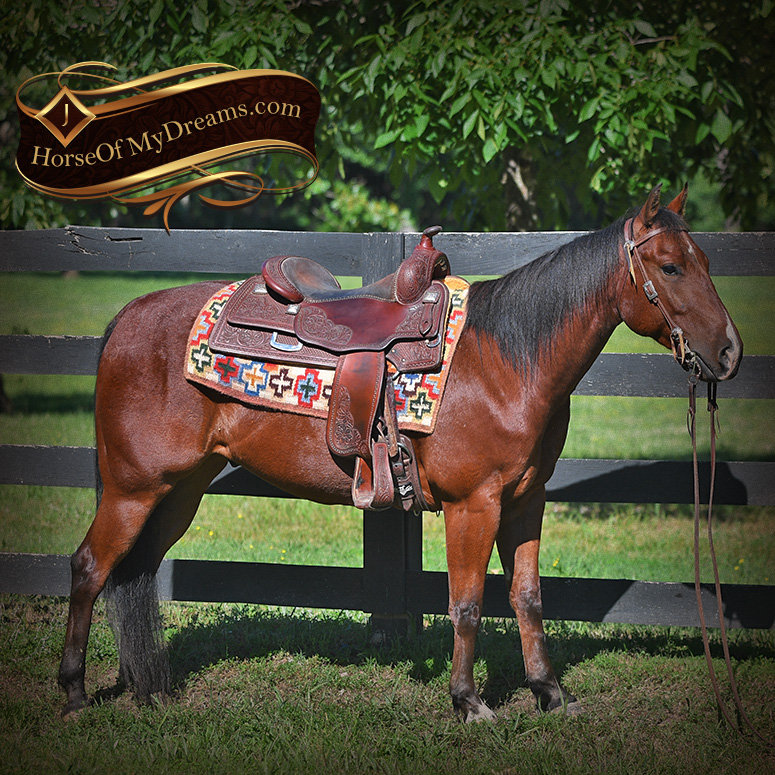 About
Beck has been-there, done-that, seen-that! He may be small, but he has a huge heart! Beck is royally bred , Smaty Little Lena on the top and bottom, and is truly unique to have such a quality gelding in a compact package. He is a true all around handy guy, an excellent trail horse, ranch horse! He is so broke and easy to ride! He is so fun on a cow and quiet, not spooky and flat footed outside. He is the type you can leave off work and comes back without missing a beat. He would be perfect for the serious trail rider that also wants to try everything else! He has also been used on a working ranch. He side passes, works a gate well, walk, jog and lopes quietly both ways, has worked the flag some, stops and backs up well. Beck crosses water well, is sure footed and will handle any type of terrain. Beck has been ridden by kids and is a great teacher. He is adorable with his beautiful color, great build and sweet personality! You can't help but fall in love!
Ready to buy?
Interested in acquiring this horse? Simply use the button below to contact us to let us know you are interested!
Contact Us
Pedigree
DYNAMICS
SMART LITTLE LENA
DOC O'LENA
SMART PEPPY
DINA DOC
DYNAMIC
DOC'S ANNA WOOD
NO PROBLEMS MATE
SMART MATE
SMART LITTLE LENA
FRECKLES PLAYMATE
SOR SADNESS
DOC'S HICKORY
SADNESS
Need help finding your ideal horse?
Maybe you didn't see what you were looking for or need help selecting the right horse to match meet needs. Either way, we are here to help! Feel free to complete our New Customer Questionnaire or simply contact us through our form.
New Customer Questionnaire