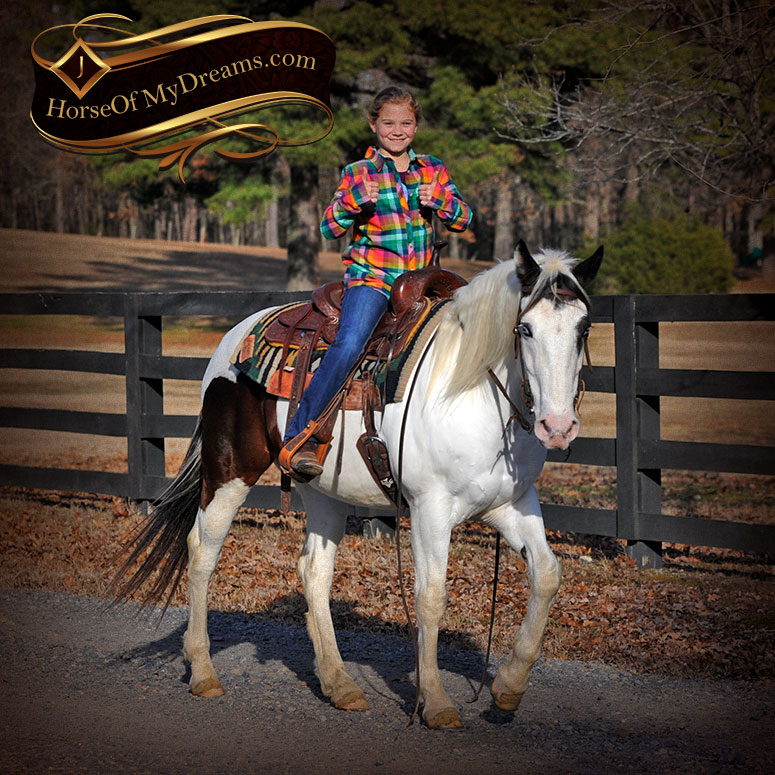 About
Bandit is a flashy and well trained one of a kind gelding. Bandit has done all show events such as poles, barrels, key hole, flag, and does them well. He was used in the Alabama Little Britches rotes for the past four years. He will run 3D at the big shoes with a rider that will ask him for it. He was also exposed to our dogs, tarps, atvs, big bouncy ball, flags, pond, you name it. He has worked cows in the pasture also gathering and sorting in the pens. What is so awesome about this guy is even though he can excel at these events, he can trail ride, or slow down when a kid is riding him. He really senses his rider's skill and adjusts himself accordingly. Athletic, skilled, and calm are usually not in the mix with the same horse. Bandit's name truly suits him because he will steal your heart! The handle and slow speed on this guy are incredible. He is very smooth and fun to ride! This is the horse that will make your day at the barn. He is always excited to see you and meets you in the pasture or at the stall door. Bandit loves his person, and people in general. Our 10-year-old niece bonded so well with him that they just went everywhere together. A confidence boost comes with every ride on this handsome flashy gelding. He has the brains and the training to teach you how to ride, and the patience as well. Bandit is waiting to steal your heart and for you to give him a forever home with you today!
Ready to buy?
Interested in acquiring this horse? Simply use the button below to contact us to let us know you are interested!
Contact Us
Need help finding your ideal horse?
Maybe you didn't see what you were looking for or need help selecting the right horse to match meet needs. Either way, we are here to help! Feel free to complete our New Customer Questionnaire or simply contact us through our form.
New Customer Questionnaire