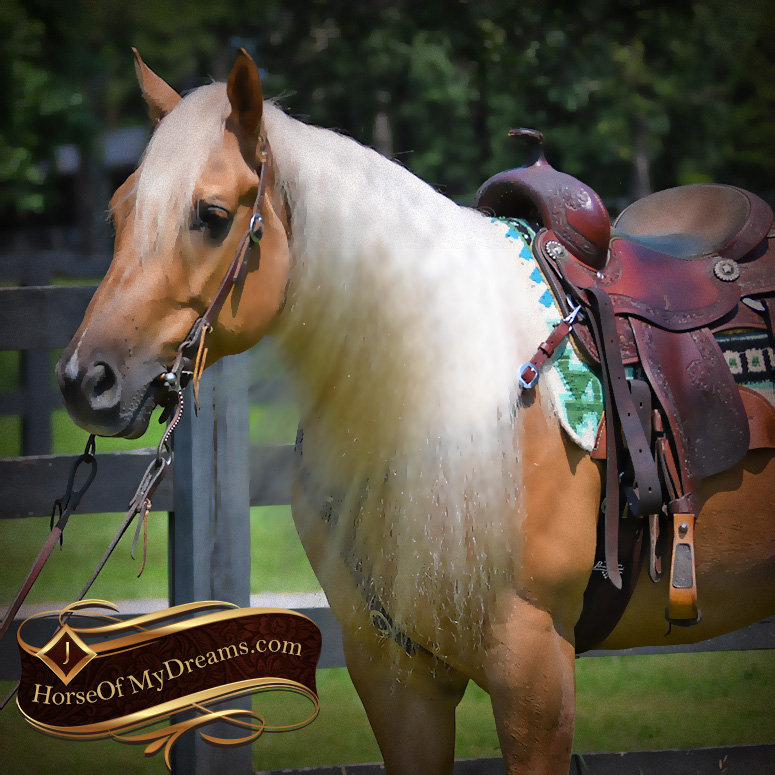 About
Tangle is absolutely the most beautiful gelding with a stout bulldog build, amazing color, and a long flowing blonde mane and tail to do for. Tangle's royal pedigree is impeccable and he portrays the good characteristics of his sire, Hollywoodstinseltown. He's out of a Shining Spark mare on the bottom so his breeding is impeccable. Tangle rides as good as he looks and is extremely versatile. He does everything! From reining, ranch work, cow work or just a fun, safe ride out on the trails this will be one that you will enjoy each and every ride. Always gentle, honest and easy going even with time off. Saddle him up and go enjoy! Tangle has been shown in the NRHA Reining. Tangle easily performs all the reining maneuvers with long sliding stops, snappy spins and easy lead changes. He would be fun to show in the Ranch Riding and Versatility events too. He has a super smooth jog and rocking chair lope. He has been ridden all over our ranch as well as many miles out on the trails. He's confident alone out on the trails and will go right where you point him. He is very sure footed and has a good outside walk. Tangle is a very people friendly horse that loves any kind of attention making him super fun and easy to have around the barn. If you want to go show, pleasure ride, or both, Tangle is a perfect fit and complete gentleman for any level of rider.
Ready to buy?
Interested in acquiring this horse? Simply use the button below to contact us to let us know you are interested!
Contact Us
Pedigree
Hollywoodtinseltown
Hollywood Dun It
Hollywood Jac 86
Blossom Berry
Miss Tinseltown
Great Red Pine
Ms Hollywood Showtime
Shiners Valentine
Shining Shark
Genuine Doc
Diamonds Sparkle
Oh That Zan
ZAN PARR BAR
OH THAT BLONDE
Need help finding your ideal horse?
Maybe you didn't see what you were looking for or need help selecting the right horse to match meet needs. Either way, we are here to help! Feel free to complete our New Customer Questionnaire or simply contact us through our form.
New Customer Questionnaire