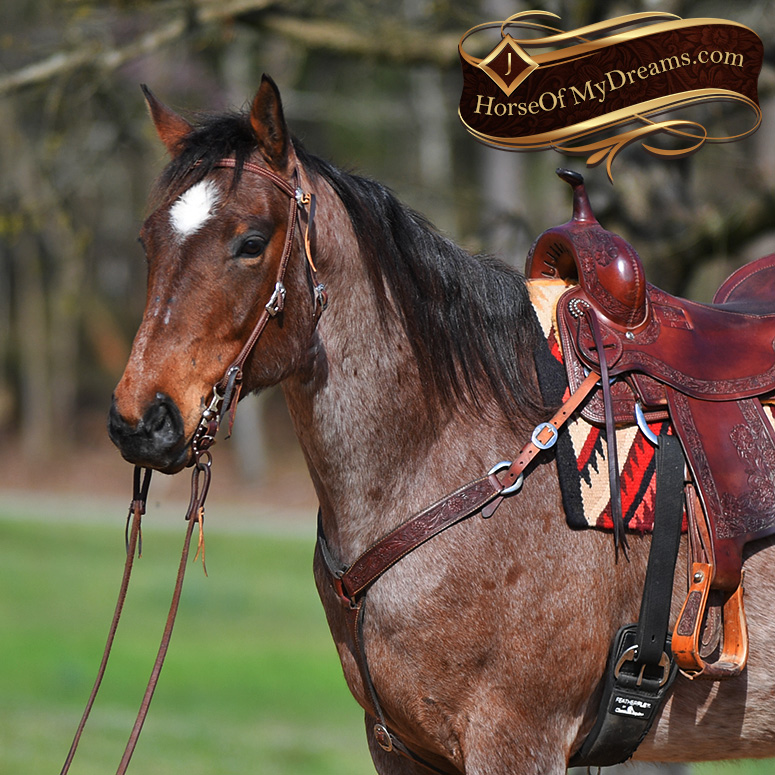 About
Levi is a wonderful western addition to any barn! This strong and balanced mover has the ability to carry his rider through anything. He is built and graceful, which is a wonderful combination for any horse. He has the classic Quarter Horse build, wonderful confirmation and a great working walk. He has a steady eddie personality and can give you the same ride every time you saddle him up. Our niece loves him and he is great with kids. He is super sweet with everyone he meets. He loves attention and loves all of his grooming sessions. He loves any task you can give him! He is so easy going that he helped us round up our free ranging turkeys, This gelding is super fun and is a great confidence builder. He is very cowy and has worked cattle on ranches, because he is so handy, he loves any task you can give him! Point him in any direction and he will go. Levi soared through the program including tarps, flag, big ball, the water, dogs, turkeys, tarps, atv, drone, riding double, and trails. He loads, ties, stands quietly, transitions smoothly, bathes, grooms, and neck reins. This gelding feels at home on trails, and he is very sure-footed. He is quiet and confident, giving you the peace of mind in the arena, or on a trail alone. He's very versatile in his abilities and he would make a wonderful addition to any barn. We can't wait to pair him up with a family of his very own!
Ready to buy?
Interested in acquiring this horse? Simply use the button below to contact us to let us know you are interested!
Contact Us
Need help finding your ideal horse?
Maybe you didn't see what you were looking for or need help selecting the right horse to match meet needs. Either way, we are here to help! Feel free to complete our New Customer Questionnaire or simply contact us through our form.
New Customer Questionnaire