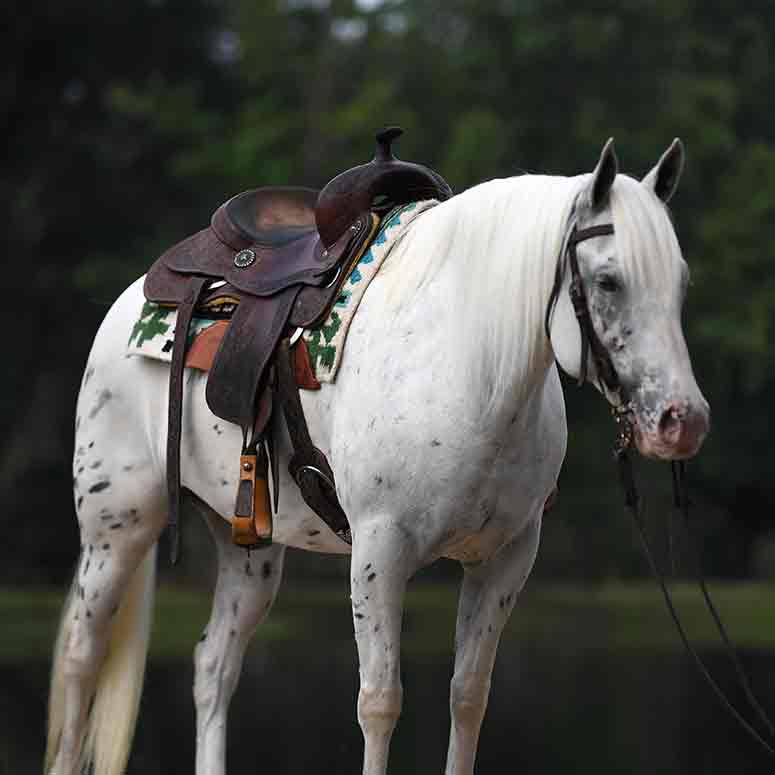 About
Pebbles is a gorgeous 13.3H leopard POA mare that is flashy and charismatic. You will drive a lot of miles trying to find another one like her. She is a perfect size that doesn't intimidate a kid but still big enough for an adult to ride. She is broke nice and really gentle for everyone. She will pack her face, flex, neck rein, pivot, pick up her leads, lope nice circles and stop good. She has been ridden in grand entries and parades and has carried a flag. She's a great trail horse and goes willingly with a group or alone through rough terrain, up and down hills, down the road and through water. She's been ridden on large several day organized rides. Pebbles has been used on the ranch for gathering and penning cows. She's a perfect mount for ranch guests to ride. She has also been hauled to ropings for the kids to ride around while dad ropes. Another cool thing about this pony is when she was younger she was shown in 4-H by a used girl in walk trot western pleasure halter and trail. She is always wiling to please her rider and will give 100% every time. Pebbles is very sweet and is easy to do anything with. If you need a nice pony with a lot of color and look that's really broke and gentle then don't miss this fancy girl.
Ready to buy?
Interested in acquiring this horse? Simply use the button below to contact us to let us know you are interested!
Contact Us
Need help finding your ideal horse?
Maybe you didn't see what you were looking for or need help selecting the right horse to match meet needs. Either way, we are here to help! Feel free to complete our New Customer Questionnaire or simply contact us through our form.
New Customer Questionnaire