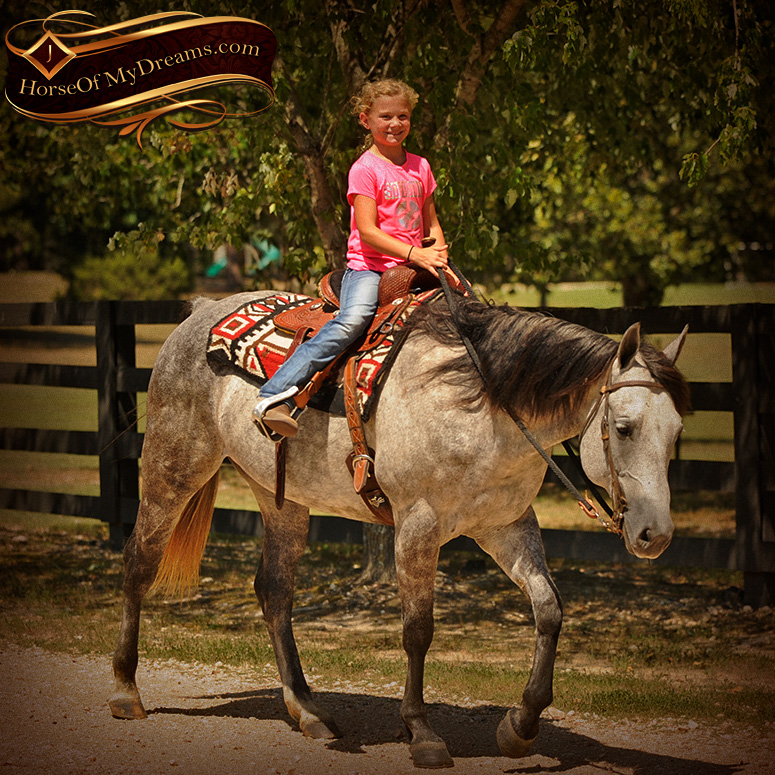 About
Milagro is one of our Signature horses, and he truly is amazing! He is absolutely the total package! He is stunningly beautiful with his dappled gray color, he is the kindest horse you will ever meet, he has a top notch pedigree with Playgun on the top and Doc O'Lena on the bottom of his papers. You will not find a smoother riding horse, his trot is so nice you can sit it all day, and his canter is just as nice. He's a beautiful mover with the talent to do anything. He looks equally incredible in western or english tack, and is just as comfortable going in both. You can take him in a ranch riding class one day and over fences the next! Young riders, old riders, experienced or inexperienced, anyone and everyone will enjoy riding him. He has a laid back disposition and just doesn't get excited over anything. We've worked him with tarps, flags, atvs and nothing has phased him. Milagro means "miracle" in spanish, and he definitely lives up to his name!
Ready to buy?
Interested in acquiring this horse? Simply use the button below to contact us to let us know you are interested!
Contact Us
Need help finding your ideal horse?
Maybe you didn't see what you were looking for or need help selecting the right horse to match meet needs. Either way, we are here to help! Feel free to complete our New Customer Questionnaire or simply contact us through our form.
New Customer Questionnaire