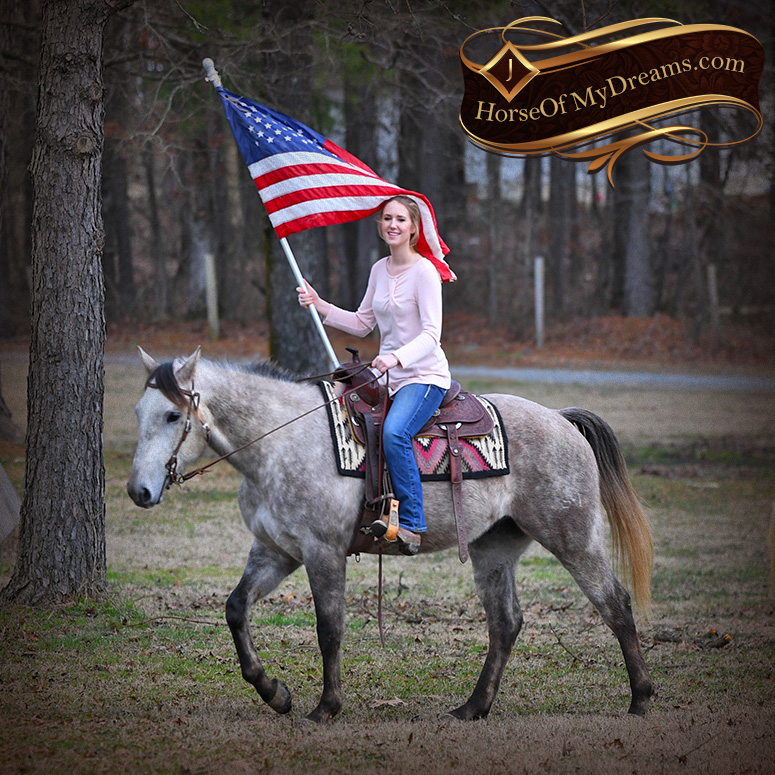 About
Who doesn't love a grey? It is our pleasure to introduce you to Sterling! He is a calm, sweet, fun, and capable boy that is an absolute joy to ride. Take it easy with a horse you can really get comfortable on. Not only is he cool, calm, and collected, Sterling has a wonderful handle on him! We have exposed him to flag, tarp, atv, dogs, the big ball, turkeys, trail rides, pond, and we do some film with a drone that is just feet away! He soared through the program and is now ready for his home. It is difficult to find beauty and grace all in the same place, but here he is! This flashy guy is so easy and fun to handle you will be at the barn all day long! He is truly pleasant to ride with his smooth and symmetrical gaits. He has a fantastic stop and neck reins wonderfully. He not only excels in the arena but take him for a relaxing trail ride and watch scenery go by as you ride along on this sweet hearted gelding. We love Sterling's color, skills and personality. You may think that his gorgeous color is where he got his name, but there is another reason for the name that may interest you. Meriam Webster's dictionary defines sterling as "Conforming to the highest standard" and we believe this fits him completely. Sterling just loves attention and all the love you can spare. Give yourself or a loved one the perfect partner to teach you and to grow with.
Ready to buy?
Interested in acquiring this horse? Simply use the button below to contact us to let us know you are interested!
Contact Us
Need help finding your ideal horse?
Maybe you didn't see what you were looking for or need help selecting the right horse to match meet needs. Either way, we are here to help! Feel free to complete our New Customer Questionnaire or simply contact us through our form.
New Customer Questionnaire