Sold To:
Texas
Age:
2005
Height:
14h
Color:
Sorrel
Breed:
APHA
Gender
Gelding
Price:

$12,000

Contact:
(501) 240-4889
(501) 240-4889
Whether you're rounding up cattle, roping and dragging calves to the fire, or just having fun on the trails, Cash has an amazing laid back "anything goes" attitude. Cash is an impeccably well-mannered, pushbutton gelding with a great handle who never gets rattled by anything. He was ridden regularly by a young girl on a full working cattle ranch and his size and temperament make him an incredible choice for a young rider or small adult wanting an unflappable trail horse to boost their confidence. He is a beautiful, flat mover and is incredibly smooth in all of his gaits, making him a pleasure to ride.
Cash is a registered breeding stock (solid colored) APHA with Freckles Playboy and Doc Olena breeding on the top and on the bottom. He goes back to Double L Straw who was the horse chosen to represent AQHA in their logo and everything they use to promote the image of the ideal American Quarter Horse specimen and Cash's incredible conformation is a reflection of his strong pedigree.
Many of our customers insist on color, but this is truly one of the nicest horses on our ranch in every way. Cash may not have a golden coat on the outside, but his huge heart is made of gold and his amazing temperament is worth his weight in gold. This is a horse that will make the ultimate lifelong companion for one very lucky new owner.
Dry Bar Deacon
JH Playote
Some Kinda Playboy
Hickory Ote Chex
Miss Koko Doll
Olena Chex
Koko Borrego
Im Outta Cash
Jangle Some Cash
JKL Bo Jangles
Casha
Ms Impressive Aurora
Luck Too
Winns Jet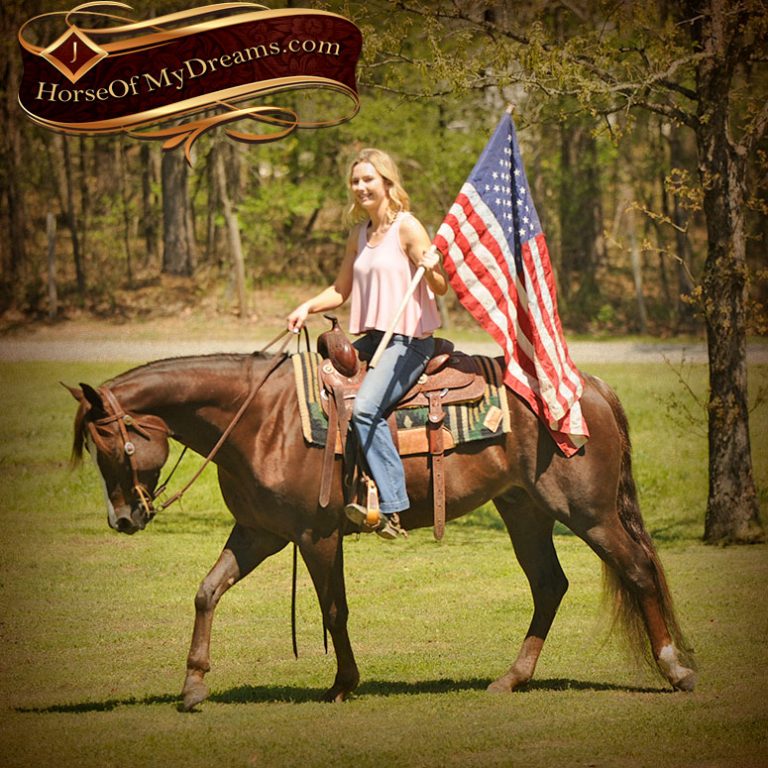 Currently Available
2014, 15.1h, Chestnut AQHA Gelding
Price: $20,000