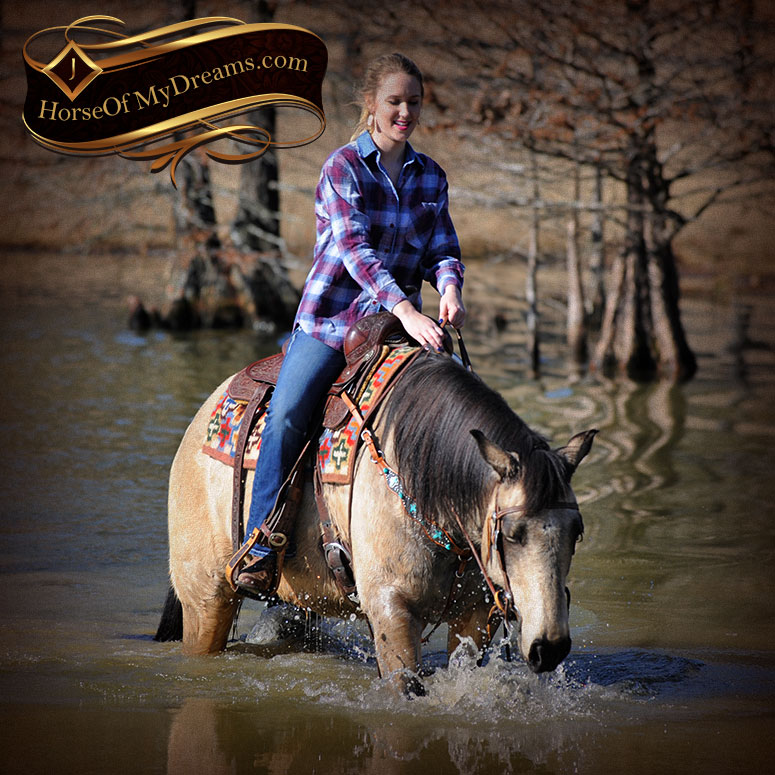 About
Timber is a sweet buckskin gelding with an in-your-pocket personality that is sure to make you smile. He has good confirmation and a cute little head. He is a ranch horse, has worked cattle, and trail ridden mostly. Even having just mostly trail riding he is still a very balanced and smooth mover. We have taken him through our program, and he passed every obstacle: tarp, flag, pond, atv, dogs, tricks, and the big bouncy ball. He had dogs and turkeys running around during all of this and never gave them a second look. He is a sweet guy that loves to see you coming, he loves all the attention and treats he can get! He is a people kind of horse and enjoys riding time. With his darker undertones, he has a beautiful unique color scheme to him. Timber got his name because we all just "fell" in love with him. Give Timber his forever home and see how quickly you fall for him!
Ready to buy?
Interested in acquiring this horse? Simply use the button below to contact us to let us know you are interested!
Contact Us
Need help finding your ideal horse?
Maybe you didn't see what you were looking for or need help selecting the right horse to match meet needs. Either way, we are here to help! Feel free to complete our New Customer Questionnaire or simply contact us through our form.
New Customer Questionnaire