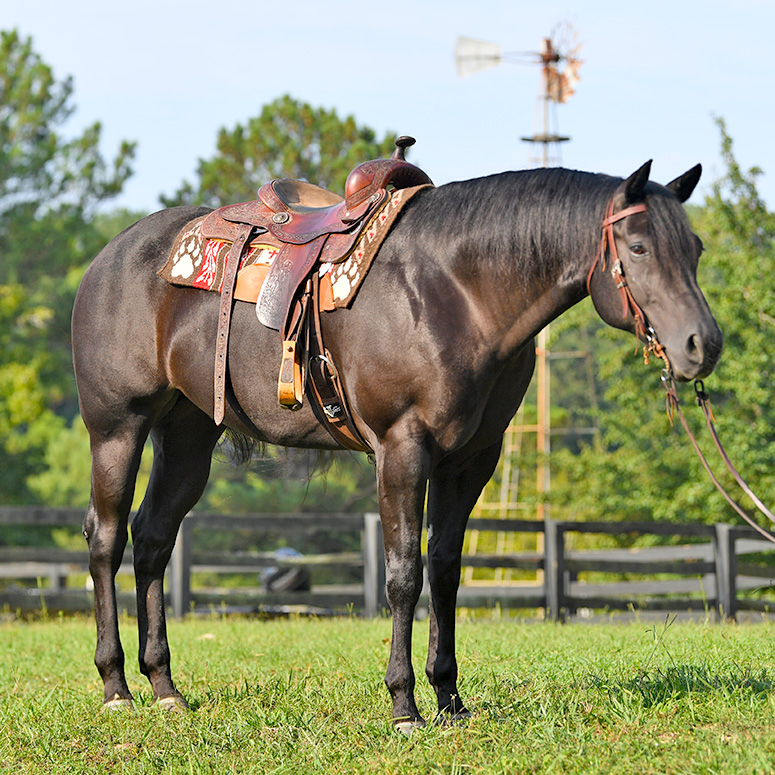 About
This is one Special horse! Voodoo is definitely one of our highlights of 2022. He's been trained and used as a movie set horse. He's used to lights, cameras and lots of action! Literally nothing rattles this guy! He will truly fit into any program that you have in your barn. He is a one of a kind sweet soul that will go out of his way all the time to please his rider. He has been ridden by all ages and all levels of riders and he is always the same. He will take you through the woods, over bridges and through water with his brave heart. Voodoo is a lot of fun and has been so easy to take through our program. He never gets upset about anything new that we show him or teach him. He just goes and does it and loves making you smile with his willing attitude.  He can be let sit for weeks and be taken out for a ride and act like he never missed a day of work. He has three very smooth easy to ride gaits and knows how to neck rein and direct rein as well. You can ride him in an English saddle, a western saddle or just go hop on him in the field and go for a stroll bareback and bridleless. He has been on numerous trail rides and trailered to lots of different places. He comes off the trailer like it is nothing. He will stand perfectly tied to the trailer or in the cross ties while you get him ready, spray him with fly spray and tack up and ride right off from there. He stands wonderfully for the farrier and vet and is a true gentleman in the crossties for you to get him ready for your ride. He has been kept in a stall and out in the pasture and does not have any bad habits no matter where we keep him. Voodoo is one of the barn favorites because of his size and easy to ride capabilities. We know that we can truly put anyone on him and he will take care of them.
Ready to buy?
Interested in acquiring this horse? Simply use the button below to contact us to let us know you are interested!
Contact Us
Pedigree
CARIBBEAN KID
CK KID
TOUCHDOWN KID
JUST ONE LOOK MR
CJ MISS COOL TARDEE
IMA COOL SKIP
MISS BUNNY TARDEE
BLACK IRIS
SONNY'S ANDREW
IMPRESSIVE ANDREW
SHES SONNY DEE
STARS AND ROSES
IMAGE OF STARS
LADY ROSIE STARS
Need help finding your ideal horse?
Maybe you didn't see what you were looking for or need help selecting the right horse to match meet needs. Either way, we are here to help! Feel free to complete our New Customer Questionnaire or simply contact us through our form.
New Customer Questionnaire