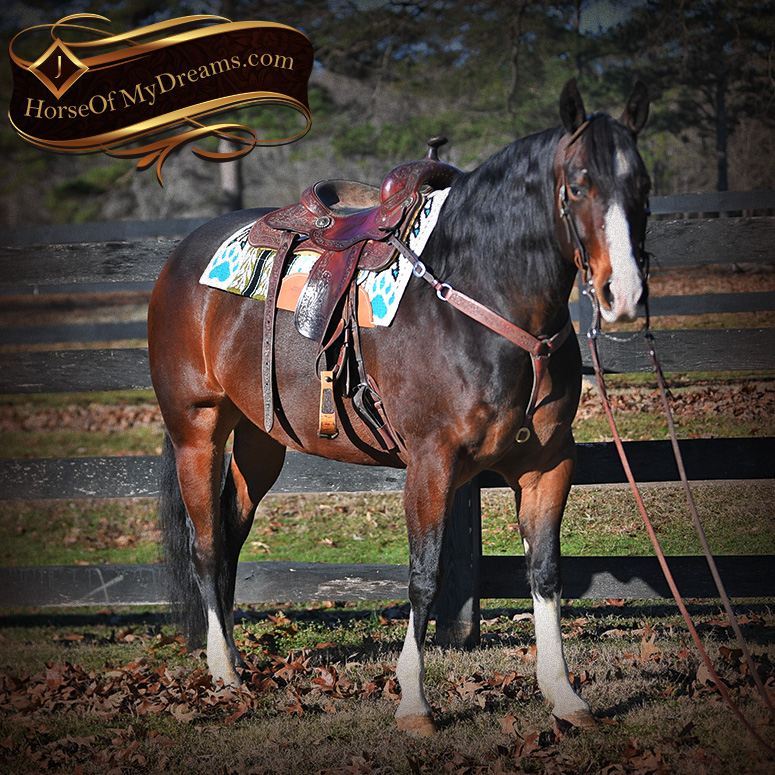 About
Watson is a stunning, 5-year-old, dark bay gelding with tons of chrome. He is royaly bred by Whiz Van Winkle and being a grandson of Top Sail Whiz with Boogernic, Reminic and Smart Peppy Lena also all on his papers! Watson's sire, Whiz Van Winkle, had an LTE of $108,965 with the NRHA. Watson stands 15.1 hands, weighs 1250 lbs and has beautiful conformation and looks likes just like his dad and maybe even a little more flashy! He is built very correct- with a deep shoulder and hip angle and strong back. He has a massive hip and great size of hoof and bone! Watson is a trained Reiner and has been shown in reining and ranch riding. He does all the reining maneuvers with ease and athleticism! He has an extremely soft and collected trot and lope. Watson has a great handle and travels very levelheaded. Watson has been used on the ranch to check fences and push cattle. Watson does a very nice job on the trails and is sure-footed on all terrain. He has also gone through extreme trail course obstacles like hanging taps and elevated obstacles with ease. Everybody in the barn loves to ride Watson, they feel perfectly safe on him and he gives them a lot of confidence. Watson definitely takes care of his rider. Watson was last shown in ranch at the AQHA Congress show and made it to the finals. Watson stands very quiet while being clipped, bathed and for the farrier. He hauls very well. If you are looking for a once-in-a-lifetime horse, make sure to check him out! He can do it all and is safe for anyone! We can't wait for Watson to find his forever home!
Ready to buy?
Interested in acquiring this horse? Simply use the button below to contact us to let us know you are interested!
Contact Us
Pedigree
Whiz Van Winkle
Topsail Whiz
Topsail Cody
Jeanie Whiz Bar
My Way Oakie
Lena My Way
Oakie Doc Miss
Boogermint
Boogernic
Reminic
Bet She's A Booger
Peppy Mint Sweet
Smart Peppy Lena
Dun It Sweetly
Need help finding your ideal horse?
Maybe you didn't see what you were looking for or need help selecting the right horse to match meet needs. Either way, we are here to help! Feel free to complete our New Customer Questionnaire or simply contact us through our form.
New Customer Questionnaire